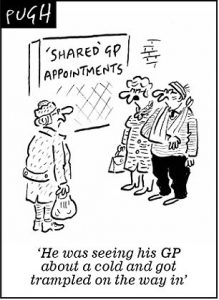 "Channeling" is how my surgery describes the impertinent questioning of the receptionist every time I want an appointment to see my GP. "Channeling", it is claimed, is designed to aid the efficient allocation of clinical resources. Fuck off.
It's clearly designed so that my confidential medical history can be shared around the village. The only "channnel" of relevance is the receptionist's gob which is the size of the Channel Tunnel. If "Channeling" isn't enough now we have fucking "Sharing" as in shared GP appointments in groups of up to 15 people.
The Russian GRU are rank amateurs compared to the GP'surgery. Want your confidential information out in the public domain? Come along and share it with 14 gobby bastards at your next appointment. Fuck! This effort has prolapsed them again. Cunts all.
Nominated by Fimbriations