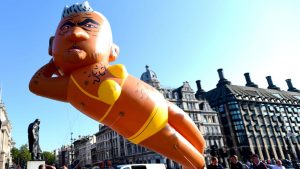 Ok so in the Observer he has said that there should be another Brexit vote in an article he has written. No surprise there, but that there are cunts and that these cunts keep being cunts isn't a surprise.
This cunting will take the form of pulling apart a couple of paragraphs of bullshit. I will quote him and then follow up with some comments.
"With time rapidly running out, we are left with two possibilities – a bad deal, which could end up being so vague that we leave the EU blind to what our future relationship will be, or a "no-deal" Brexit."
We don't care you cunt. Actually no deal would be better, fuck the status quo it's done nothing for us.
"Both these scenarios are a million miles from what was promised during the referendum campaign"
Only a politician would think that what politicians promises matters a shit. We don't need a campaign to make a decision fuckstain.
"only further exposing the lies and mistruths sold to the public."
The irony is deep and strong here. I would personally advocate a public beating just on the weight of the dishonesty and lack of self-awareness of this sentence. Utter cuntitude.
"They are also both incredibly risky and I don't believe May has the mandate to gamble so flagrantly with the economy and people's livelihoods."
She has the mandate to leave the EU, and that's risky in the way you describe, so yes she does, cunt.
"Terrifyingly, we are now in real danger of crashing out of the EU with no deal."
No vested interest there then …
"Despite the fanciful assurances from Johnson, this would be by far the worst outcome – with independent research showing that it could potentially result in 500,000 fewer jobs across Britain by 2030. "
A steaming heap of bullshit of a sentence full of false assumption based around his wrong perception about what people think of politicians and bullshit statistics. How is he ignorant of this? Where does he live?
"These are real jobs and people's living standards being put at risk."
This cunt wouldn't know what was real if an analogy hit him in the face.
"So, after a lot of careful consideration, I've decided the people must get a final say. "
What? Just who the fuck does this utter cunt think he is?
"I don't believe it's the will of the people to face either a bad deal or, worse, no deal. That wasn't on the table during the campaign."
The campaign was nearly as full of shit as you are, cunt.
"It's time to take this crucial issue out of the hands of the politicians and return it to the people so that they can take back control"
Laughable. Unbelievable. The fact that he doesn't know that "the people" caused this by voting to leave in the first place is worrying. This guy is an absolute cunt.
In summary I have not before seen what an absolute fuck minded and frankly evil and manipulative man this Sadiq Cunt is before. I find it astonishing that a conscious being can say the things that he says. He must live every day in a maelstrom of lies and self-deception. This man is a cunt of the highest order.
Nominated by Cunting Rank Wags
I am glad CRW bought up Sadiq Kunt (serves you right for eating him). This 5'4″ heap of festering shit, a ragbag of piss and wind has written in todays Observer (the weekend version of the Guardian in day-of-rest bloomers), but has also been taken up with glee by the Independent and BBC (and no doubt by the Standard as soon as George Osborne has finished wanking over the article).
On the BBC news on radio it was reported that Sad-dik was "deeply anxious" about Brexit. Perhaps the silly shortarse wankstain ought to be more concerned about the appalling rise of violent crime and murder in London, or the state of Transport for London, or his ragbag of housing policies, or even the fact that when they circumcised him they threw away the wrong end. In any event Khan is not paid to concern himself with international or national matters, only London's, and he is a total fucking failure at that. He will no doubt be relieved he has been approved as the Labour candidate for 2020 (which must have made Dame Eddie Izzard upset since she/he/it had already decided he wanted to run for it).
It is only because there are so many effnicks and left wing snowflake shroud-waivers in London and outer London that the stupid fucking bastard will probably win again, but Labour is now holed beneath the waterline, and the kindest thing to do would be to torpedo it.
If Kunt, Miller, Mangledbum, Lady Starmer and co think the EU is so fucking wonderful why don't they piss off and buy a one way ticket to Brussells?. At the very least why don't they shut the fuck up. Cunts the lot of them.
Nominated by W. C. Boggs
Sadiq Khan, yet again. He now is leading a campaign for a seconds Brexit referendum. Which to me seems slightly outside of his remit, like everything else the cunt does.
Yes, I saw this little cunt making a donkey of himself yet again. Perhaps, if he now thinks he speaks for all English people, we should allow all English people to vote on who should be the next Mayor of London.
Who does this big nosed, short arsed little cunt think he is? Seriously? He's done fuck all remotely mayoral since he got in but pick silly little twitter spats with Trumpty Dumpty, tried to implement sharia via the back door (I'm sure none of you have forgotten the religious views of this pious little cunt on the adverts on the side of buses) and try to deflect the blame away for the skyrocketing crime in London on anyone but himself. Oh, and deflect a proportion of the budget towards policing anti Islam comments on Twitter.
To me that sounds like an enemy of the state. Regardless of what you think of Thatcher – she never would have put up with this little peaceful cunt getting out of his basket every half an hour.
Nominated by Mecha-Rigsby