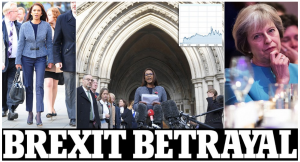 What a pile of cunt.
We have unelected EU officials on one side capitalising on our weakness and being awkward at every turn. The Irish border is critical. Security a major issue. The EU global positioning system. Tariffs. EU citizens rights. Bollocks. All of this can be sorted with goodwill on both sides. Failure to agree hits them more than us.
Aiding and abetting the Euro cunts are an army of Whitehall civil servants. Remoaners to a man. Pointing out how disastrous every thing will be if we leave.
Add in the cunts at the Bank of England, the Treasury and the Lords you have the full picture.
Then, up pop discredited reptiles – Blair, Mandleson, Branson, Clark and so on who get airtime out of all proportion to their worth.
Blair a devious greedy unprincipled liar.
Mandleson whose honesty is open to serious doubt. (I have toned that down)
Branson who leeches off the state while a tax exile taking every opportunity to show his grinning hippy face.
Clark, a typical southern smug cunt.
And many more.
Some fucker needs to stand up and walk away. Fuck EU. Let the actual elected EU politicians weigh up their losses, which will be far greater than ours. Then we can negotiate.
Cunts one and all.
Nominated by Cuntstable Cuntbubble