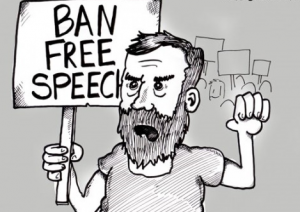 The British Legal System
It turns out making a joke is actually an hate crime. If you do make a joke please be certain to ensure it is not edgey in any way. Make your jokes are benal, vapid, inoffensive and not fucking funny in any way whatsoever.
TAKE NOTICE; if you joke about any of the following you will be arrested, fined, potentially jailed and prayed upon by almost every limp wristed liberal retard mogoloid cunt in twitter shot…
Jews; nazis; rape; black people; brown people; wimminz; any religion ever (there is an exemption for jokes about protestant Christians provided they are white and male); eastern Europeans; western Europeans (again exclusion is in place for the only people on the planet that have a sense of humour- Englishmen and our international kin); emos; gays; trans-genders; trans-black people and anything that is mildly offensive to THE MOST EASILY OFFENDED GENERATION IN HISTORY. Which is a moving target by the way. They invent new things to get offended about quicker than a bloomberg terminal receives market data.
Oh year, definitely don't teach a dog to do hitler shit. That single act of hatred will cost you 800 quid and is guaranteed to lead to a slippery slope that ultimately can only result in the deaths of millions. Scientific fact.
Get fucked.
Cunts.
nominated by, Fuckwit