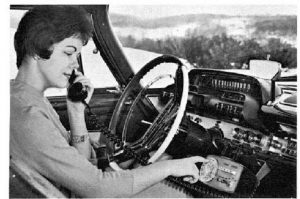 What is it with women and mobile phones when they are behind the wheel of a car?
I spotted at least five of the fairer sex today whilst stuck in traffic. Shifty furtive glances down to their laps, eyes wandering around, then a quick glance up to see if the car in front has moved, then eyes down to check faecesbook or whatever shit is on the screen in their lap. Repeat this action at least half a dozen times until the jam has cleared and traffic flowing.
They must think we are all fucking stupid and don't know what they are up to.
'I know I'll hide the phone between the legs when driving, I won't miss that important faecesbook or Twatter update… A quick look down won't hurt every now and then'…
Now not to condone it, but at least white van and delivery drivers have the thing to their ear or go hands free when in transit.These fucking women are NOT taking or making important life or death calls, and anyhow can't a call wait till safe and legal, as the saying goes?….these witless bints are most likely on the return leg of the school run and are just checking antisocial fucking media, nothing that can't wait until they've stopped driving their  6 tonne killing machines around the place.
Cunts the lot of them.
Nominated by. LeonardoDiCunty