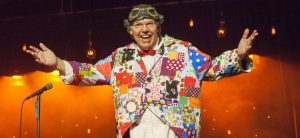 Roy Chubby Brown. Now why on earth wasn't he nominated on the day this website opened? The only references to him that I can find are from tearfully sentimental fans who think that he is the greatest thing since God said "Let there be light". Most people sit stony-faced through every second of his routines – or at least, as many seconds a they can stand before they rush vomiting for the exit. He is, of course, up there with Bernard Manning: drawing whimpers of joy from the sort of arses who say what great guys the Kray twins were (they only ever tortured their own kind, you could leave your street door on the latch in them days, hang all the paedos, I'd pull the lever myself).
He was well sent-up by Viz, who called him Chubby Arse, and had him making endless unfunny "'ere, old people smell of piss, eh? Eh?" jokes. (I'm giving him the benefit of the doubt when I call them jokes.)
Anyway, I thought this site was mildly funny when I first came to it, but frankly, having seen the adulation heaped on RCB, I sort of said to myself "Oh, that's the sort of cunt that likes this site". So now it's goodnight Vienna. I'm off.
Nominated by Simon L.