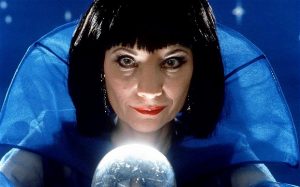 Are you:-
– going through a loss?
– having problems with love?
– having problems with finance?
– getting divorced?
– unhappy with your work situation?
– lonely?
– feeling unattractive?
– feeling helpless?
Why not consult someone who, for a meagre sum, can look into the future and help you. With their gifts of insight, they'll be able to predict your impending happiness, incoming partner or future fortune. They could even "make contact" with someone who you've recently lost.
Don't worry if you aren't able to find one of these talented experts locally as you can now speak to one on the telephone for a paltry low amount (and they won't keep you on the phone for too long!). Just call up an advertised psychic, or contact one online, and you can obtain an instant perspective.
▫ Men – you could be shown expert business knowledge and how to make your first million.
▫ Women – were you a queen in a former life? Perhaps Cleopatra, Elizabeth I, a Russian princess or Marie Antoinette?
These shameless con artists' tricks are obvious to most but they're clever, devious cunts who prey on both the simple-minded and the emotionally-scarred. The job of a clairvoyant is to keep clients coming back, get them addicted to psychic readings, and keep taking their money.
Nonetheless, there are still no laws to prevent this chicanery, absolutely no legislation at all to prevent it. Clairvoyants, shamans, mediums, rune-readers, psychics, numerologists, intuitive astrologers, Spiritualists…
….Fuck Off you rapacious, barefaced lying imposter cunts.
Nominated by Captain Magnanimous