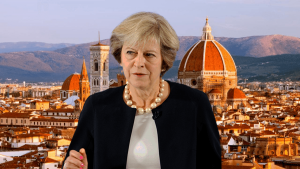 What is the fucking point of Theresa May? Ok, she's not Flabbott or Corbyn – but she's now even more irrelevant and yesterday's person than 'Call Me Dave' Cameron, ffs.
She has no power, no-one takes the slightest notice of anything she says any more, and rightly so, she has never delivered on any of her fine words EVER!
Fuck off and let someone with more credibility, like Noel Edmunds, take over.
Nominated by Shitcake Baker
May gets my vote for cunt of the year hands down – fucks up the election, then bends over for the micrococks of Europe to gangbang the UK into fucking oblivion
You fucking hunchbacked, clueless shitcunt. Deserves to be beaten to death with her own stinking kitten heels.
Nominated by The Empire Cunts Back