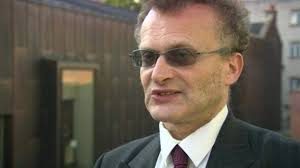 I always used to feel a bit sorry for Ian Brady`s solicitor.I mean someone had to be and I figured naively perhaps that he was most likely a normal bloke doing his job and showing great professionalism and restraint the level of which is inconceivable to me.He is indeed a massive cunt though! After Brady`s death yesterday he was giving radio and TV interviews which is odd in itself and goes way beyond his professional obligation.Weirder still he spent two hours with Brady before he died discussing funeral arrangements and disposal of his body.That took 2 hours? I mean the guy lived in a room , has presumably hardly any assets to leave anyone no one would turn up to his funeral.This was all clearly pre-planned and Makin himself made it clear Brady was too ill to speak at any length.So he was clearly there comforting him on his deathbed.He described it as "a moving experience" which is fucked up.I get he was a big part of his professional life but fuck me "moving" :the guy was a monster and regardless of people's political opinions that is the overwhelming consensus of the public.Also the creepy looking Lord Longford lookalike cunt refused to call him evil and said he was mentally ill.Oh fuck off Brady knew exactly what he was doing and was an incredible tactician in sadism.As you would expect he then said the "meejah" frenzy was unhelpful.I am so sick of this argument in such cases.If you broadcast the facts with no bias whatsoever there would still be a frenzy as Ian Brady was such an unspeakably evil cunt that even his name gives most people the chills.
Makin is a cunt of the highest order though for saying he had many interesting conversations with Brady over 25 years but never asked Brady where he buried Keith Bennett.Absolute bollocks.He must have asked him.The notion anyone wouldn`t ask him that is ridiculous.Did it just never get brought up in conversation? His comments have obviously pissed off the families of those poor children which was the last thing they needed to feel on what should have been a day of relief.
I wouldn`t let this weird and creepy solicitor anywhere near me.CUNT!
Nominated by Shaun