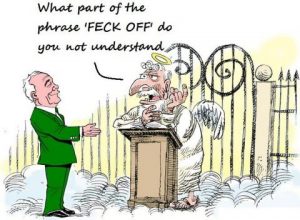 We shouldn't be surprised at the list of our favourite cunts who have queued up to pay tribute to the late great Martin McGuinness. The only thing we should be surprised at is that he's never been cunted on here before!
Nicola Sturgeon released a statement on Tuesday saying that without his "hard and brave work to bridge the divide" that "peace would not have been achieved" in Northern Ireland.
Bill Clinton : "He believed in a shared future, and refused to live in the past, a lesson all of us who remain should learn and live by. May he rest in peace"
Tony Blair : "For those of us able, finally, to bring about the Northern Ireland peace agreement, we know we could never have done it without Martin's leadership, courage and quiet insistence that the past should not define the future." Apparently he had "genuine affection for the man I came to know and admire."
Jeremy Corbyn declared himself "very sad" to learn of the death of McGuinness. IRA sympathiser John McDonnell said 'bombs and bullets could unite Ireland' and joked 'gutless wimps' opposed to Sinn Fein should have their knees blown off'
Alastair Campbell said "A great guy, a good guy, I liked him a lot" The same Alastair Campbell who said people who voted democratically leave the European Union were "Thick, fascist, racist, xenophobic cunts"
The list is endless. Even the BBC has sunk to new lows with this one and has been accused of 'fawning coverage'. Jon Snow summed it up with "A great loss; an extraordinary life that culminated in great service". The BBC coverage has been endless and never a bad thing to say about the man.
Martin McGuiness was an evil cunt. The only good thing about him is that he's now a dead evil cunt.
Nominated by just about everyone who comments on this site