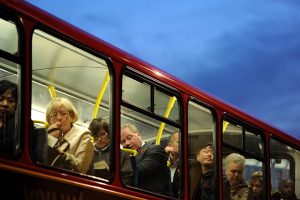 I would like to nominate bus passengers as a bunch of inconsiderate cunts.
I get a bus daily, to help the environment but mainly because I like a drink after work. If the bus is busy, what do these twats do? Sit in the aisle seat with no intention of moving over so you have to ask them to move. If you can see it's getting full, fucking move over, pricks. And take your massive fucking handbags off the seat next to you, you've paid for one seat, not both.
And if you're an old fucker and turn up at the bus stop just before it arrives, if I've been waiting 10 minutes in the pissing cold and rain, I'm getting on first, so stick your misguided entitlement up your cunt, cunts.
And don't get me started on the twats who put their feet on the seats, someone should take a shoe covered in dog shite and rub it in their fucking faces.
Nominated by: TheBournemouthRed