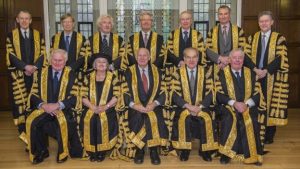 So these supposedly wise bunch of bewigged creaking worn out fuckwits have the 'knowledge and experience' to 'interpret' the so called 'Law' and come to an 'enlightened' decision based on said 'Law' regarding Brexit.
'The Law', being (usually) a whole host of rambling rules that are needlessly complicated, written by a similar clump of deceptive retards with the sole reason to keep their fellow 'besyrupped' shyster chumps in a job in the first place.
"The more laws and order are made prominent, the more thieves and robbers there will be." ― Lao Tzu (Died 531 BC ) ……. How true this is.
In my opinion any cunt that makes a career in Politics or Law have taken this decision due to their lack of intelligence and deep down they know it, but this choice does attract them as they can earn big money with their limited capacity. (How much is this latest High Court case earning these sponging parasitic Cunts?)
Anybody undertaking a path in Engineering, sciences etc has to stick to 'Natural Laws' as you cannot 'argue' with Nature, as opposed to this man-made trivialty, where the goal posts are always moving.
Nominated by: Gareth Davies