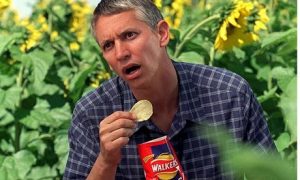 Walkers Crisps deserve a cunting.
Not content with employing that Grand Master of Cuntitude, Lineker, to advertise their shit crisps,they have announced a 10% price rise due to Brexit! They say that exchange rate fluctuations are to blame,even though the potatoes are grown and crisps produced in the Uk.
Considering that the bags are 90% air,perhaps they could save their "increased costs" by getting some cunt to squeeze some of the air out before sealing. Or,better still,sack that bell end Lineker. Their crisps would still be shit,but I'd buy a bag just to say thanks for getting rid of him.
Nominated by: Dick Fiddler