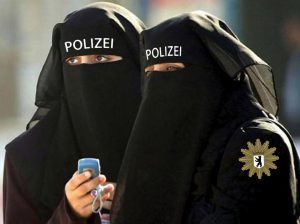 Time to give the West Midlands Police force a cunting of epic proportions or is it more correct to use a collective term of a cuntery for all the fuckers there that are considering to allow the full Burka in order to increase their BME percentage. For fucks sake anything that's running around in a full Burka is not going to be allowed out to work by it's owner..
Nominated by: Dianne Abbott
West Midlands Police are due a weapons grade, nuclear bomb of a cunting. In a sign of how far up the arse of Islam the police have crawled, it's been revealed today that West Mids Police are actually considering allowing female muslim officer to wear the burqa. Can you imagine the sight of a fucking blacked out tent, with a blue light stuck on its head, and utility belt, trying to arrest a drunk at 0430 on a Saturday morning?
Who the fuck at that police 'service' decided it would be a good idea to even suggest such a ridiculous thing? The police are already experiencing the lowest level of public trust and confidence since Sir Robert Peel first founded the police force. Now some overpaid tosser wants officers to have even LESS respect, by allowing a minority of its officers to dress like walking bin bags, when it isn't even a religious requirement.
I've said more than once in the past that I can't stand muslims. It comes from having been to many of their cuntries (no, that's not a spelling mistake), and experiencing true muslim culture. Not to mention the bullets, bombs, mortars and fucking camel spiders. Anyway, I for one would NOT even consider obeying a thing dressed like a soot covered Pac Man ghost. I would not recognise the authority of such a ridiculously dressed moron.
And here's another thing, the police are required by law to show their warrant cards and ID on request. What happens if a male member of the public does that? How do you confirm the identity of a thing that is wearing a garment specifically designed to hide the wearer's identity? Will the soot covered Pac Man ghost refuse to show its ID? And will it remove its veil so that the face on the ID card can be matched to the face under the bag?
Personally, I can't see it happening. But the fact that it's even being considered shows that, senior police officers certainly, have completely lost the plot. There are tons of decent, honest plods out there. It's time they started to up to their upper echelons and FORCING them to return to doing the job they are paid to do. Protect law abiding citzens, prevent crime where possible, bring criminals to justice when necessary. Those at the top of West Mids police have far more important things to do than think about allowing a very small minority to wear bedsheets rather than the proper police uniform.
Nominated by: Quick Draw McGraw