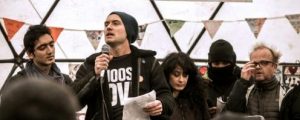 400 celebs and other do-gooders protested to allow at least 400 hundred "children" living in Calais Jungle Camp to come and live in the UK. Mainly because they have relatives living in the UK.
Now if they paused to think these do-gooders and celeb band wagon hangers on may realise each one of these cunts they allow in is justification for all their relatives to come and join them.
You cunts are not doing good you are fodder for the no borders commies that will use any justication to ignore the borders of nation states and in the process erode out culture and identity.
If these cunts don't like France or any other country they passed through on the way to attempt entry on the UK they should fuck off home.
We have enough parasites of our own, fuck off you are not welcome. Happy clappy do-gooders may tell you this is the promised land but it ain't and you are not going to welcomed.
Nominated by: Sixdog Vomit
400 hundred celebs, 400 kids. Do the math!
Take one each and then you can lecture me
Fucking hypocritical cunts…
Nominated by: Dioclese