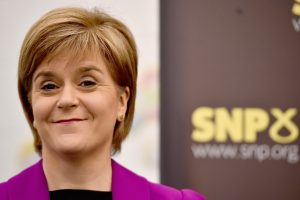 Sturgeon's off again and warrants another nomination. The Scottish Government (aka SNP) has today published a paper predicting Scottish GDP to be between £1.7bn and £11.2bn per year lower by 2030 as a result of Brexit. It is based on a whole load of studies carried out by the Project Fear brigade before the referendum that only a cunt would still believe in.
Here's an idea to boost GDP, Crankie – how about stop whining and go and get some trade deals? How about make Scotland more attractive to inward investment by resigning? How about reversing the decline in Scotland's educational system since the SNP got into power? How about reducing public sector jobs in favour of private sector jobs? And how about accepting that we voted as the UK and the result, therefore, applies equally to all parts of the UK?
Hard to let go of the teat though, eh?
Nominated by: Harry Axwound