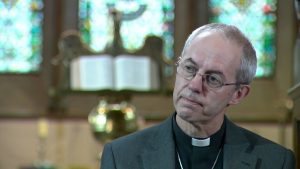 That cunt the archbishop of Canterbury is now urging us to house Syrian refugees,however it must be self-contained and available for at least 12 months.
I asked Granny Fiddler if she fancied moving out of the granny-flat to make way for some peace-loving immigrants. Damn near finished the old trout off..started screaming about kiddie-fiddling sand niggers invading our green and pleasant land, and kicked my Afghan hound right up the arse.
I rang the good Archbishop to ask advice and he said to "choke the racist old bag with a packet of Werther Originals" What a iobbie-jabbing,god-bothering true cunt.
Nominated by: Dick Fiddler