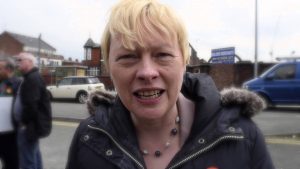 I never thought the Labour Left could sink any lower until I watched Angela Eagle on Thursday's ITV EU debate – but I was wrong.
This woman is a nasty, nasty, nasty, nasty piece of work.
And she has the cheek to accuse the Leave campaign of 'engaging in a race to the bottom' FFS! Labour already scraped the bottom of a very deep barrel when they found this one!
What worries me more is that there are a bunch of people in Wallasey who have been thick enough to vote for this cunt since 1996. Thank Christ I don't live in Wallasey. If this is an indication of the mentality of the average British voter then we're well and truly fucked!
Really, serious, full on NASTY bastard!
Nominated by: Dioclese