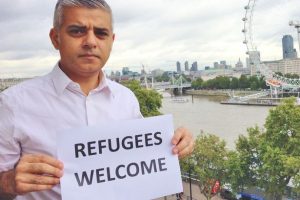 Sadiq Khan becoming Mayor of London tells us it's all over, our capital city given away. I went shopping earlier and thought I was in eastern Europe until I got to the till.
Why the fuck we allowed people to die in two world wars to preserver "British values" then in 1945 immediately started giving the nation away not one cunt from LabCon has yet stood up in parliament and explained.
The British are now an endangered species.
Nominated by: Sixdog Vomit
Khan is a cunt.
Muslim mayor…..fuckin' joke.
Cunt might have been born in London, but as the saying goes…..just because you were born in a stable doesn't mean you're a horse
Nominated by: JR Cuntley
Sadiq Khan is a cunt…
It's going to be interesting when there is another terrorist attack on London: and they wheel out Khan as Mayor to make a statement… I wonder how he will do the 'nothing to do with Islam' and 'we musn't offend them' bullshit? Because – rest assured – that is what the cunt will do…
That cunt, Khan, his Labour Council, and his toadying to every muslim and foreign cunt will do more long-term to damage to London than Hitler and his blitz ever did..
Nominated by: Norman