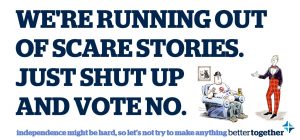 Now I don't know about you but I have been around a bit and found at the top of the food chain a smarmy clipped accent cunt who nods, says the occasional well done then goes off and fucks you over.
Now to me Project Fear (very similar to other projects) is their get out of jail clause.
I am so familiar with the "I don't agree with this but they are making us do this" shit (it didn't work at Nuremburg) I think that they are shitting themselves about their own accountability if we opt out of Europe, they are scared of a parliament elected by the people for the people and answerable to the people, no more of this working in your interest and doing the best we can shit.
One of the claims was "if we leave the EU house prices will plummet". Now maths is not my strong point, neither the treasuries either, but if I look at a map of the EU and its coverage, then take into account I can live anywhere I want, then look at the size of the UK, think well I can only live in a 12th of the former territory, why is less of a commodity cheaper than more?
Most of all stop using my money to shove pro EU crap through my front door! There must be some EU regulation on how much plasticised shit you can produce for a campaign.
What ever happened to fish and chips in newspaper? I think the EU killed that too.
Nominated by: Lord Benny