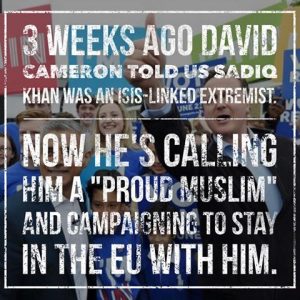 David Cameron is a cunt.
Cameron recently has hailed Labour's Sadiq Khan as a "proud Muslim" and "a proud Brit" as he shared a platform with the London Mayor at an EU Remain Rally. Mr Cameron congratulated Mr Khan on his victory in the Mayoral race, saying: "I'm proud to be here with the Labour mayor of London – on this vital, vital issue."
Take in to consideration that 8 weeks ago he said he was a potential terrorist. Staying in the EU must be really important to Cameron, if he's willing to ally with terrorists. He claimed "more than half a million jobs" in London depended on the UK's membership of the EU, adding: "A vote for Remain means jobs and opportunities."
Yes but it also means the EU will still be overseen by mongs… like you David, Fuck off Dave you thick camp cunt!
Nominated by: Titslapper