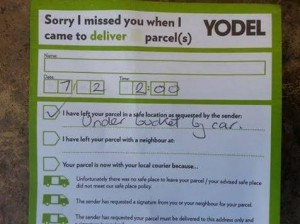 Yodel are cunts, once ordered some paint online, dispatched by Yodel.
Sat in all day waiting, heard the cunt pull in to our close (a cul-de-sac with one road in/out).
Looked out of window, saw it was Yodel, put my shoes on and walked to the front door, cunt was then pulling away!
Rang Yodel up to complain, was told the driver had attempted delivery and left a card, tore the bitch a new one calling her a lying cunt and explained what happened. She put me on hold and rang the driver, he came back 2 hours later and actually delivered the paint, he was not fucking happy!
He obvious drove to my address so his tacometer/gps showed he did his route but didnt even get out of the van, cunt.
Then a couple of years later ordered a new 28″ monitor for the PC, again it was Yodel (ffs)
tracking said dispatched, never turned up, eventually after ringing Yodel and complaining it was delivered 2 days later, unboxed to find the LCD panel broken!
Had to fuck about for another 3 days getting them to come pick it up and be returned.
FUCKING USELESS CUNTS
Nominated by: Boaby