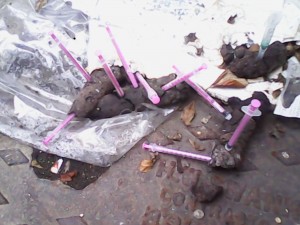 The Good Lord ordains that what marketh man is his shite. Animal shite – unless it's bear or pig – is generally cope able with. The human kind, orf which yours truly has vast experience orf is orf a different order orf foulness. Indian shite and particularly that that fouls the streets orf Calcutta is beyond the pale. In the Western Desert (8th Army, Rommel, that show) a good soldier learned to identify his enemy by his waste – Iti, Kraut, Wog, Yank (lots orf Yank but never near any danger) all distinctive. Hippy shite stands oit from from me days in the 60s in the Producer dodge organising festivals, particularly when mixed, as it so orften was, with mud and psychotic substances. In short I know me shite.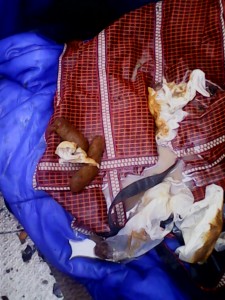 Orf a different order orf magnitude is dosser shite as increasingly evidenced in London, Manchester and many a South Coast toine. A veritable tsunami orf the stuff is deluging our once great nation. Glossy, brown and bloated, the sticky mucous coated crap is stuffed full orf parasites and drug resistant viruses. Indeed consider where it has been and what has produced it. Now try and get it orf your shoes without getting it smeared all over your hands and clothes.
The feral cunts squeezing their arses oit over shopping centres, public streets and people's front gardens think they have the right to borrow a rat arsed dog with sad soulful eyes (I always offer to put the fucker doine) or hire a fake sand sculpture and beg for my money. Must declare me interest here. Do a spot orf lay preaching at me local church and have regular occasion to shovel dosser shite (see photos) oit orf our front garden. Call the Council? Fuck orf. No other cunt will touch it.
Nominated by: Sir Limply Stoke