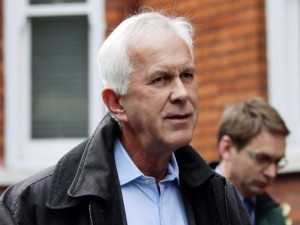 Philip Cunt Dilley has been basking in the sun in Barbados whilst the people of the UK have been deluged and flooded out of their homes and livelihoods. "So what?" you ask. Well, I'll tell you.
Dilley is the head of the Environment Agency. He earns £100,000 a year for a three day week part time job. Nice work if you can get it and Dilley certainly has! OK, so he's been on holiday but should he have cut it short and returned home to take charge? More to the point should he have gone in the first place as it was already happening when he left?
Dilley thinks so. He emerged from his home in Marylebone to be greeted by a group of journalists apparently eager to hear about his trip to Barbados. "Did you have a nice holiday?" a reporter asked, while another following him questioned whether a beach was "the best place to be managing this crisis from".
Dilley's response? "I've been in very close contact with a whole number of people," a tanned Sir Philip said as he walked down the road. "Everybody can't be everywhere at the same time. I think we've been very effective and efficient in what we've been doing. There's obviously some lessons to learn and we'll follow those through." One of those lessons might be not to fuck off on holiday during a crisis. Another might be to cut it short when a national crisis is in progress…
More surprisingly is that when he eventually went oop norf to survey the damage, the locals didn't drown the fucker!
And that Liz Truss is a cunt too for not sacking him.
Nominated by: Dioclese