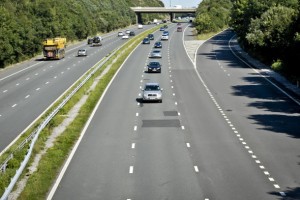 It probably comes as no suprise to most that some middle-lane hogging cunt has been quite literally shunted out of it by a lorry on the M1, the driver of which was probably fed up with these fucking muggles who clog up the motorways on a daily basis. Lorry driver will obviously be demonised in the Daily Fail, lose his job, etc…
Predictably, the middle-lane moron had dashcams fitted and the whole thing is on camera.
Okay, so perhaps the lorry driver could have just carried on up the inside and undertook him whilst extending the universally accepted wanker gesture. But judging by the overtake seen on the footage – the dickhead in the car was pootling along at about 50mph in the middle lane so no wonder at least one person has lost thier cool. He says the lorry flashed him and drove to close and was 'intimidating' him – well that's probably just a strong indication that you're in the wrong fucking lane at the wrong fucking speed so move the fuck over! Instead, he obviously felt so 'intimidated' that he though the best thing to do was stay right there… cunt.
It's these fucking imbeciles who cause most of the congestion on the roads, make everybody late, piss everybody right off and make me wish that the Mad Max world is real.
Lorries can sometimes piss me off a bit with the old 5 mile uphill overtake manoeuvre (but in fairness everybody on the road pisses me off at some point), not but half as much as the brain-dead fuckwits that struggle with the mental challenge of breathing in and out, let alone negotiating a busy motorway, plus I always try to remember that lorry drivers are people physically 'at work' trying to do their jobs and stick to delivery deadlines.
So I have no sympathy whatsoever for this dashcam douchebag, and I also have no doubt that he'll soon be coining it in from some solicitor weasel for all the 'sleepless nights' he's about to have. It wasn't 'your life' that flashed before you mate – it was the headlights of the pissed off driver in your rearview mirror (that thing top-centre of your windscreen). And you can bet he'll be back in that fucking middle lane in no time. (ps – since he recorded it on his twat-cam, shouldn't the old bill be tapping him up for wee middle-lane hogging fine…?)
Middle-lane hoggers are cunts.
Nominated by: Nickleby