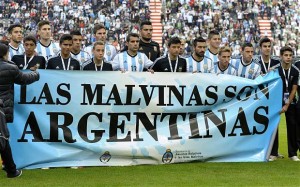 I would like to cunt the Argentina team. Fancy posing with your big 'Malvinas' flag now, boys?!
Stick it up your arses, losers!
Nominated by: Norman Whiteside

Never been interested in sport and glad the World Cup is over and we can have our TV back (apart from the Open golf and Coomonwealth Games and the Tour de Farce of course!).
Brazil and Argentina both humiliated. Almost worth letting the Germans win just for that.
Football sucks.
"Don't cry for me.
No Malvinas
Stick your flag
Up your arsehole"
Nominated by: Dioclese