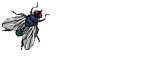 Flies are cunts. No matter how little you open a window, a fly will always fly in. No matter how wide you open it, it will never fly out again. Cunts.
Nominated by : Yootha Joyce
My cats catch most of the little buggers. Trouble is they eat them, then I have to clean the puke off the carpet when they fetch-up an hour later.
Nominated by : Termujin