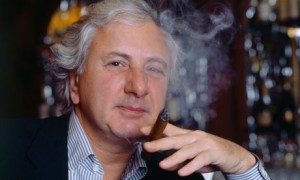 Knew the cunt a few years back. Would answer the telephone pretending to be his own secretary. Had a whole string of ex lady loves he kept sweet by letting them think they were in for substantial legacies on his demise. The last one was looking after the terminal tosser in the belief that she would get the mansion in Holland Park.
He did have plenty of readies but it was all cash from multiple mortgages and loans on his properties. Did not own a bean. Fine old to-do now, m'learned friends etc etc. Warring next of kin, banks, mortgage companies all unaware of each others conflicting claims. Rather delicious actually.
Postumous cunting for old time's sake? He would enjoy that.
Nominated by: Sir Limply Stoke

Seems that I failed to notice the demise of Michael Winner back in January. What an odious little cunt he was. Went everywhere by private jet because he hated travelling with the plebs. I hear say that he used his celebrity to pay for it rather than a cheque as he was reportedly bust.
Remember his 'Calm down, dear!' advert? How the mighty had fallen to sink to that.
Met him once in Barbados when he was blagging his way to the best table in the restaurant at Sandy Lane. Unfortunately for him, the table he wanted was occupied by my party. 'Do you now who I am?' he said. 'Yes' I replied, 'you're the odious little yid that isn't getting this table. So fuck off!'
He fucked off. Like I said, odious little cunt…
Nominated by: Dioclese

Barbados must be a much nicer place now he's not there!
Nominated by: Mrs D.