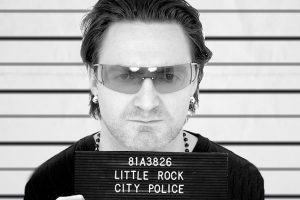 Okay, okay, I know it's a case of 'been there, done that, bought the tee shirt', but does this pompous, opinionated gobshite deserve yet another cunting, or what??
Not content with foisting his ponderous dirges on us for years, the short-arsed tax dodger continues to delude himself that he's a player, a mover and shaker on the world stage, and that everyone outside his privileged little bubble actually gives a flying fuck for his opinions on anything.
Of late, the little turd's being giving it out on the question of Europe. According to this self-styled visionary, 'Europe is a grand, inspiring idea… the idea of Europe deserves songs written about it (just no, please no!!), and big, bright blue flags deserve to be waved about'. Yer man has indeed been doing just that at gigs, describing said flag waving as 'a radical act'.
As further evidence of his progressive, social justice credentials, the wee tosspot dressed in a clown's outfit at a recent concert in Paris, and called Swedish Democrats 'Nazis' (complete with a 'Sieg Heil' salute) for having the audacity to question their own country's extremely liberal immigration policy.
In other news, we learn that the wankstain has recently met with Pope Francis at the Vatican, to discuss, as he told reporters afterwards, 'themes that include the wild beast that is capitalism'. 'The wild beast that is capitalism'. What a bunch of totally pretentious, up your own arse wank. Tell you what, Frankie boy, just grant the hypocritical arsehole's secret wish, and make him Saint Bono immediately.
Recently U2 was forced to abandon a show in Berlin, when Cunto's voice gave out temporarily. Personally, I would take it as proof positive of the existence of the Almighty were this temporary state to become permanent, and we were spared any more of his tedious, sanctimonious bullshitting.
Meanwhile, all we can do is look on the bright side. Bono; the gift to cunting that just keeps on giving.
Nominated by Ron Knee