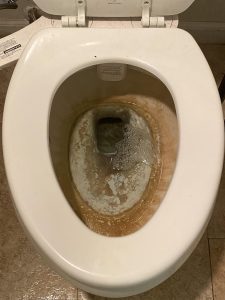 Cunts who have toilets, primarily used by guests and visitors, which don't flush properly.
The Cunts are fully aware that the toilet mechanism is malfunctioning and they can't be arsed to fix it or have it professionally repaired. It doesn't' bother them as they have access to a fully functioning Crapper elsewhere in the house. After disappearing for ages whilst trying to flush away even a simple piss, the shithouse owners have a smug look on their faces when the innocent victim returns.
The situation is magnified exponentially if the deposit of foul age is more solid and abundant then a mere piss.
When reporting a difficulty, the Cunts always reply that they have known about it for a long time, but haven't bothered to get it fixed. Even friends and family are to be designated as CUNTS if they pull this stunt on their guests and visitors.
Nominated by Sir Cuntalot.