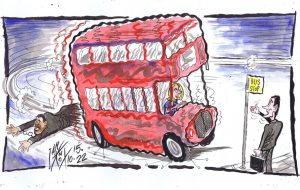 Budget day today and the MSM is predictably awash with faux praise for our Globalist Socialist chancellor. "Things aren't as bad as they could have been, he's giving away free childcare, motorists are saving a fortune because fuel duty (which remains at a bargain £.60p litre plus VAT making it £.72 really and then the State takes another £.20 VAT on the whole bill making 57% of the bill the State's), fuel duty, didn't increase further, etc, etc.
Meanwhile the plebs are totally screwed over with income tax (the personal allowance having been frozen for a couple of years, and planned to be frozen further until 2026 – affecting everyone and the poorest paid the most), VAT on heating bills, green levies on heating bills, council tax rises maxed out (and allowed to go above the "5% taxpayer protection cap"* if the council in question has wasted sufficient money in the previous tax year), etc, et fucking cetera. In short: "the State knows best how to spend your money so we'll take as much of it as we want and we don't car how it's spunked away because "little people" don't matter."
WTF can we do about this?! The only options are Labour or Conservative – both cheeks of the same, rancid, globalist rump.
When will it reach the point we will have our own "Sri Lanka" moment?
Here's another thing, not apparently obvious: an extra £20mil for BBC foreign services. Yes, you read that right😡
When I p1ss on my ballot paper it's going to be like like a plasma cutter hitting rice paper!
Hunt is a Cunt!
Nominated by Mikdys.