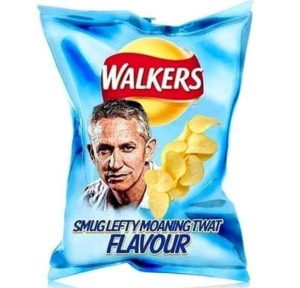 First of all, apologies tor cunting such low hanging fruit. He is the cunt that keeps on giving, and there seems no end to his cuntishness. However, he has really surpassed himself this time.
I could write hundreds of words about why this is bollocks, but suffice to say, Mr. Lineker will never have to suffer a lack of GP appointments, a 6 hour A&E wait, or not getting his child a school place.
What really gets me is that he will "be spoken to" – while Andrew Bridgen was sacked for saying something similar, but less controversial.
There is a special place in Hell for Mr. Lineker.
Nominated by Lord Cuntingford.