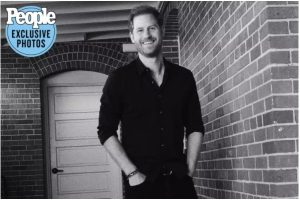 I wish I could suppress the identity of the product that Hairy's endorsing for his septic fans, but this completely confirms the assumption that he's only in it for the money:
"Now, Harry is sharing their go-to orders, revealing to PEOPLE: "In-n-out (drive-thru burger joint) is the best! I order two double-doubles, animal style, fries and a Coke! And that's just for me! Meg gets the cheeseburger and fries with sides of jalapeños. I just stick with ketchup and that special sauce of theirs. So good!"
On the bright side, Montecito's been flooded and residents have been evacuated.
Nominated by: Komodo
And Ron Knee isn't finished with the Fuckwit quite yet…
Prince Harry the Halfwit; 'Compassion in Action'
Ok, ok, I hear you; 'enough already of Harry the Halfwit'.
I hear your pain, but with the publication of our hero's book, I felt it only right to let you all see, through the generosity of his own words, just what a truly warm and wonderful human being our Harry is. So here he is, letting us all know of his appreciation for a hard-working member of staff at his 'prep' school;
'Pat was small, mousy, frazzled, and her hair fell greasily into her always tired eyes… Pat had many crosses to bear. The biggest seemed to be her knees and spine. The latter was crooked, the former chronically stiff… We went on mocking her as she came down the stairs'.
(extract from 'Compassion in Action; the Man I Have Become', Prince Harry. Penguin Random House, 2023. Now available in all good remainder bins, £0.99).
Isn't it lovely to see the depths of sympathy and concern felt by Harry for those less fortunate than himself? Surely he overflows with the milk of human kindness. All of those disdainful of this man's contribution to the cause of humanitarianism should hang their heads in shame. Gawd bless yer, yer Gingerness, yer an hexarmple to us all.