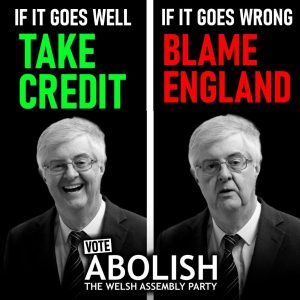 Good news of sorts in that this dreary old cunt has said that he is stepping down as First Minister of Wales in 2024.
I'm sure the Welsh people (and British taxpayers) will be relieved/rejoicing at this news, albeit being 2 years too late! (at time of writing – 29th Dec 2022)
This from a man who imposed draconian restrictions on the Welsh people during the pandemic- so extreme that they eclipsed the one announced by our very own clueless wonder, Boris Johnson.
He is also championing the move towards a 4-day week for the public sector in Wales. He feels this will energise its employees as well as give them more flexible time to do their own family-oriented duties. (no mention of the private sector of course)
And then there's his half-baked Universal Basic Income scheme, where he wants to give anything up to £1600 per month to young people" for "doing nothing" because Drakeford believes "we want all our young people to have the best possible chance in life and fulfil their full potential".
Of course what he doesn't mention is that the UBI scheme will be entirely funded by UK taxpayers and not from the Welsh coffers. He also forgets to mention that there will be no means-testing, which therefore suggests rich kids will receive the money just as much as poor kids.
He also wants to introduce traffic-calming measures, including 20mph speed limits in residential areas of Welsh towns and cities, which is a push to get drivers out of their cars and onto public transport (he doesn't say if this includes himself and other dignitaries)
He has come up with a few other crackpot schemes, some of which never saw the light of day, but others that still might before he eventually steps down.
Even looking at the man suggests he has all the magnetism of a well used toilet brush. It also begs the question of what kind of cunt Wales can expect when he does eventually fuck off into the long grass come 2024!
Nominated by: Technocunt