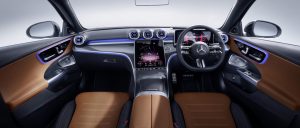 Cars, they deserve a cunting.
I've recently bought a new car, a small but roomy little bugger, very cheap to run too. But..the fucking price of them now. The prices are sky high and don't get me started on those effing electric cars, ludicrous amounts they are, for the privilege of driving a few miles then spending ages looking for somewhere to plug the cunt in. At least I can fill mine up easily.
Also, let's talk about technology. For fucks sake, do we really need what's rammed into them nowadays. Those massive computer screens on some look awfully distracting, mine has a little screen with some basic shit on it and that's bad enough. At least mine has separate controls for the heater, most are now built into the screens so it's a bastard to alter on the move.
I can see lots of accidents, "I've no idea how I hit that bus up the chuff officer, one minute I was scrolling though menus and submenus to turn the vibrating ball sack feature off after I'd shot my bolt, the next I'm looking at the arse end of a bus" Fucking barmy, and not needed.
Cunts.
Nominated by: Bertram Cuntatious DCO
(Never fear: give it a few more years and most of us will be using horse and carts – Day Admin)