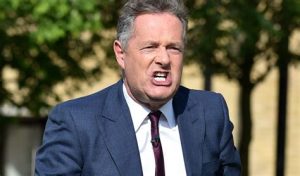 He hasn't done anything in particular, I just had the misfortune of hearing this chinless twat on the radio and he reminded me of how much of a piece of shit he is.
His interview technique is nothing more than verbal bullying, interrupting, lying, mis-representing, straw-man, shouting down and asking smart-arse questions before the previous question has been answered.
A smug, sweaty, arrogant hooray-Henry, utterly inept, a hypocritical liar. A waste of skin, a medical experiment begging to happen, a good reason for extending the abortion limit to 58 years old.
Naahh, don't like him.
https://www.gawker.com/5827372/piers-morgan-is-a-lying-liar
Nominated by: Termujin