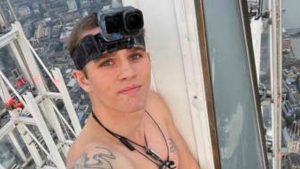 Adam Lockwood, one of these daredevil cunts, who this time, has climbed the Shard. This is after the cunt had already been given suspended sentences for similar acts of trespass.
A whole phalanx of police, firefighters and ambulance crews were assembled for this cunt, in addition to nearby streets being closed. Will he get a proper prison sentence this time? Or another suspended sentence and license to carry on being an irresponsible cunt?
Not sure why they had all the emergency workers there. Just need one road sweeper to clear up his remains, or one copper to arrest the cunt.
This nom also includes all the cunts who will no doubt praise this arsehole.
Just waiting for the day when he dares the devil, and loses.
and this too
Nominated by: mystic maven