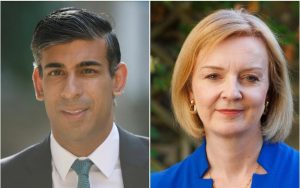 I'd like to nominate the Conservative party's navel gazing leadership contest.
This link sums up the contest quite well:
[A six week contest, between two totally unsuitable candidates, played out interminably to the whole population of whom only 0.2% are allowed to vote on the outcome.]
At this point, over half way into the contest, it seems there might be a clear winner but the process rolls on regardless. The previous incumbent of 10 Downing Street, meanwhile, having insisted on "staying on" (presumably to keep creaming those lovely expenses and lining up favours for wealthy businessmen in order they may return them post office) is refusing to have anything to do with running the country.
And, all the while this farce carries on, the "cost of living crisis" (mostly brought about by, some recent and some longstanding, inept decisions of the same politicians) rages on. But not a word about this from these cunts. It doesn't exist to them and they don't even bother paying lip service to it.
Brexit was about a little bit of power being returned to the people. The Conservatives managed to avoid that happening whilst carrying out the pretence of actually doing something about it. Buoyed up by this they now think they can just totally ignore the population whilst they indulge themselves in their pathetic political games.
There's an old saying: never forgive and never forget. Carry this thought with you to the next general election when you will get a say (and have the opportunity to spoil your ballot paper because all the other cunts on it will be just as bad!). [Assuming of course there aren't riots and a complete breakdown of society in the meantime.]
Nominated by: Mikdys
And then there's this from Thomas the Cunt Engine
Rishi "The Snake" Sunak.
Normally I wouldn't say anything racist against an Indian, but in this case: fuck this bud-bud ding-ding piece of shit.
The worst Chancellor ever?
Worse than Badger Lamont?
Probably.
Now he's been in the press saying that he 'rues the Government's ch1nk flu strategy' and says 'scientists should never have been
put in charge of the country's response'.
Pull the other, you lying cunt. You were the leading proponent of all the lockdowns and all that 'eat out to help out' bollocks.
All that Covid money to fake businesses that's gone forever.
And the Track & Trace app? £37 billion?!
Where's that money gone, prick?
A few million (maybe) for some spotty oik to modify an already-existing app and dozens of billions squirrelled away to your fucking mates.
If it even existed at all.
Who's going to pay the Covid money back to the Central Banks?
Us, the working folk of England.
We're going to be buggered for decades (unless the WEF get their way and we're back to using horses and carts and eating insects.
This motherfucker ought to be hung, drawn and quartered.
And for balance, Sir Limply Stoke offers his thoughts on "Bag-of-Old-Bollocks" Truss – the Fake Iron Lady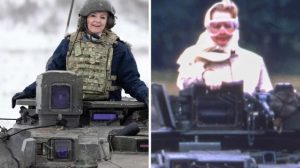 The most annoyingly persistent perpetrator is old twisted mug Liz Truss. Photo ops always available with scarf flailing in the wind pretending to be a tank commander plus the usual Johnson hi-viz vests and Mrs T's favourite, the white coat to emphasize clinical knowledge (at least the Blessed Margaret was a chemistry graduate).
Before Lizzie T there was the embarrassing Maggie May who gave much hope of Iron Ladyness, soon dashed, by putting the boot in on the Police Federation at their Conference.
Photo ops of Mrs May pretending to be a tank commander when her premiership started going tits up? You betcha.
Not to be binary genderist, we have Johnson trying to fake it as Churchill (would Captain Chaos have taken air tours of the battle for Germany in a clapped out Blenheim?) or various Ministers such as Hunt the Cunt and dodgy carpet trader Sunac touring hospitals jacketless with the tie tucked in and shirt cuffs folded up ala David Cameron. Can't imagine Winnie doing that all though he might have toured Covid Wards in his Siren Suit. Note to Tory Party image makers – are you missing a trick there or just content to let Starmer balls it up?
The sadness of it all is that whenever Truss does anything vaguely Thatcher like her ratings with the Party Membership rocket skywards.
Further sadness, the geriatric Tory faithful fall for it time and time again.