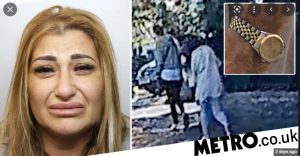 Romanian gangs of street thieves and con artists are cunts, these pieces of dog shit turn up here, claim all there is to be claimed under the guise of being dislodged gypsies, then they go to town on how many laws they can break, muggings, prostitution, people trafficking, conning, begging, drugs you name it these cunts are doing it.
Anyway the above spunk trumpet (Stefania Tinica) has been relieving old gents of their time pieces by running up to the hugging them and then separating them from their watches and has got caught and has been given 40 months for her crimes, I hope she gets a good fisting from the dykes.
The fuckers do this all over the world, they need napalming of the return of the third Reich
The bitch should be deported on release, but that won't happen her and her pack of cunts will Romania for ever until one of their own stabs them….
Nominated by: Fuglyucker
(At time of writing, no mention of Stefania Tinica on the BBC or Guardian. Funny that! – Day Admin)