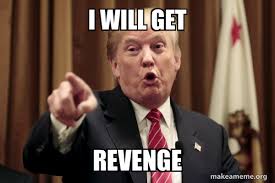 Ever seeker revenge for a slight to you?
Revenge is meant to be sinful,
But I think it's completely natural,
A settling of the score,
Natural justice,
To take revenge is normal.
Ever seen the film Jeremiah Johnson?
Starred Robert Redford as a mountain man in the Old West.
Well it's based on 'liver eater Johnson ' a real mountain man.
Over 25years he waged war on the crow tribe who had killed his wife.
Johnson killed over 300 crow warriors and scalped them and ate their livers.
Now that's revenge.
And also cannibalism, but you get the idea .
What revenge have fellow cunters exacted ?
Nominated by: Miserable northern cunt
(More info about the Liver Eater here, Day Admin – Liver Eater Johnson )