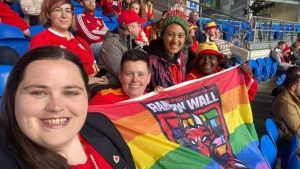 Despite the prejudices of some of the cunts on this site – Wales leads again.
"World Cup 2022: LGBT Wales fans vow to boycott Qatar tournament"
Yes, no Llanelli lifters, Monmouth mincers, Barry benders or syphilitics from Sengenedd will go to Qatar. As a protest against corruption, yewman rights, modern slavery, the subjugation of women?
Er, no.
"Tracy Brown, of Wales' official LGBTQ+ supporters' group, said many members did not believe it was safe to travel to the Middle East in November. Homosexuality is illegal in Qatar and punishable with prison sentences."
That'll teach the cunts.
Welsh uphill gardeners and rug munchers will be proudly boycotting. No shirts will be lifted in the stadium toilets. There will be no frotting in the stands.
Apart from watching on the telly that is.
Well, you can only go so far.
Nominated by: Cuntstable Cuntbubble