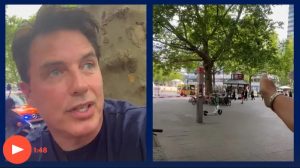 John Barrowman is a narcissistic cunt isn't he.
Finding himself in Berlin, obviously the only place he can find work at present, the city gets a major incident of an unknown person of unknown colour and origin ( name not released yet but I'm guessing not indigenous to the general population of Germany, I could be wrong and frequently am) driving a car into a shop killing 1 so far of writing this and injuring countless more a few in life threatening situations.
So back to the cunt. What does he do?
Goes directly to the scene of the incident ( I bet he was fucking miles away at the time it happened) and starts filming the aftermath. Nothing really to see as it's probably an hour or so after the event but that doesn't stop his sycophantic diatribe on "The Horror" of what's happened.
Do we see the incident with a low voice behind narrating the scene? No. We get him on camera more than the scene with his faux distress.
I bet he was just waiting, nay wanting it to be a white person with far right connections. Imagine his outpouring of grief then.
I wonder if it does turn out to be who we think it is he will get back on air condemning it?
Battyman I loathed you before and your antics just reinforce my belief on that.
Nominated by: Onceacuntalwaysacunt
And supporting link courtesy of Miserable northern cunt