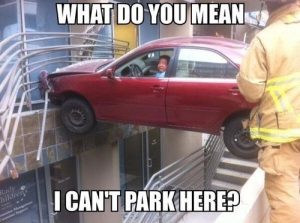 First off the bat, I can't drive! Not legally anyway because I have a spatial awareness problem. So I leave all the driving to the missus while I tootle around on a motorbike!
But what always amazes me is how the wife can judge how to park between two cars in a carpark, or parallel park between two cars on a road, or negotiate her way down a narrow one-way street with cars parked either side.
Her sense of spatial awareness is absolutely awesome and she doesn't even rely on the audio/visual sensors on the dash console to guide her in.
But on the flip side is how other drivers have little or no idea how to park their car between two white lines on a supermarket carpark, for example. More often than not they come in at an angle and cross the lines and park, which means the spaces either side becomes impossible to use.
Or you come back from the supermarket pushing a laden trolley to find your perfectly parked car is blocked by a cunt who has parked so close to either the driver side or passenger side that you can't open them and you just know the door panel will have been dinged by the cunt opening his door without a thought in his empty head.
Then you get cunts who parallel park so close up your backside that you find yourself in a position where you can't reverse/forward out of your spot without crunching the cunt behind you.
Then there's those entitled cunts, the Karens, who seem to think disabled spaces and "parent and child" spaces really mean "That means me then!" despite not being visually/mentally disabled or having a child with them. But because they can't be arsed to walk a few extra yards they think they have the divine right to park more or less right outside the store's doors!
And don't get me started on those cunts who park in the middle of a one way street, thus blocking the road; and cunts who park on the pavement thus blocking pedestrians from getting through without having to walk on the road first.
That said, the way things are going on only the rich and well-connected will be able to drive cars in the near future. Problem solved.
Nominated by: Technocunt