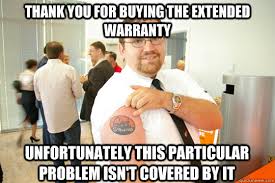 Warranties and the cunts that sell them, warranties are more often than not not worth the paper they are written on, as a car repair garage i hear the fateful words saying [ i have a warranty ] all the time and to this i have to say, [ we don't deal with warranties or warranty companies on any level.
Why is that they ask, so i tell them and it goes a little like this- So you want me to spend half an hour reading through the small print on your Arthur Daily warrant book to see what's covered or not and if by chance it is, then spend upwards of an hour on hold to eventually speak to some bint who knows fuck all about cars, to tell me the reasons why they are not going to honour the claim, or will honour the claim at a reduced labour rate, and for less hours than the job can be done in and then take 3 months to pay and all this before you even earn a penny.
So the customer somewhat surprised has to then go searching for some mug garage who will deal with warranty companies, you will never guess, no fucker wants to know, which I'm sure is exactly what warranty companies want.
So don't pay any extra for a warranty, its a scam 90% of the time and it wont get honoured by the cunts and the plank who has done his bollocks on the monthly payments for his shiny new Merc to park on his drive to impress his neighbours, has to park the fucker up and start saving or sell a kidney to pay for the repair.
Money spinning con perpetrated by cunts, don't buy into the world of warranties and having some jumped up dodgy car sales shark like Quentin fucking Wilson on the ad shouldn't inspire you with any confidence whatso ever….
Nominated by: Fuglyucker