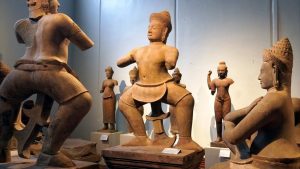 Antiquities, "acquired" over the years, from their temples. Some $35M worth (allegedly) has been calculated in today's U.S. currency.
The 'long struggle' to return Cambodia's looted treasures to their rightful place and the B.B. fucking C. got itself involved ~ cunts!
Interestingly though, on this occasion, not a war crime, just that many of these items ended up, I guess in "safe keeping." Like in the U.K.'s Victoria and Albert Museum. The British Museum and the Met Museum, to name but three.
And now they want it all back.
Nominated by: Lord Scunthorpe
Useful supporting link provided by: Grumpy Old Cunt