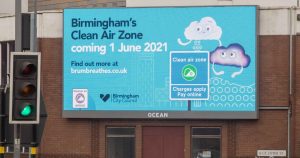 (Pity there can't be a "No Scumbag Area" in some cities – Day Admin)
Just received a PCN for breaching the clean air code or whatever that is for daring to pop into the outskirts of Birmingham and visit a shop the day after visiting a friend in Walsall.
£60 if paid early (which I did as can't afford that let alone £120 if I appeal and lose)
I know ignorance is no excuse but I had no idea the council ( probably liebour run) had this in force and I certainly wasn't looking out for signs as too busy trying to find the shop using satnav.
Do they contact you to say you have 6 days from entering the zone to pay the £8 charge then if you don't pay charge the fine ? No they just wait till after the six days and send you the fine. Cunts.
The fact that the fucking M6 more or less runs overhead the shop is irrelevant it seems.
Like I can afford the fine, that's two weeks petrol and food for me so looks like I'm cutting back.
Been researching and it looks like there is no point to appeal. Fucking fuming.
Birmingham council you are cunts of the highest degree a plague on all your houses and I hope a meteorite hits your offices.
Nominated by: Onceacuntalwaysacunt
(More info here: Day Admin    Birmingham City Council)