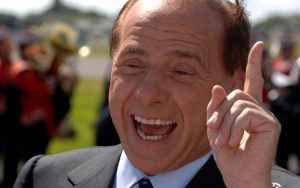 A special one forward gear and nine reverse cunting for thrice former Eyetie Prime Minister Silvio Berlusconi.
After 85 years of humping anything with a minge and pulse you might think the old goat would settle for sucking a Werther's Original (or Italian equivalent) instead of the usual Milanese slapper. But no, the ancient old cunt's still at it, now 'marrying' (not really, just pretending) his 32 year-old bit of skirt.
Now I'd be the first to admit that she looks like she's had more up the front bottom (and possibly the back) than Silvio's had antipasti, but the point of this nomination is to express my utter admiration for the lucky old bastard. And I'm sure the fact he's worth 5 billion has nothing to do with the bint saying 'Si'.
So go for it, Silvio, keep your arse hair on your head. You're an inspiration to all us old cunts for whom a lottery win is more likely than a leg over from a 32 year-old.
Grazie bunga bunga!
Nominated by: Geordie Twatt