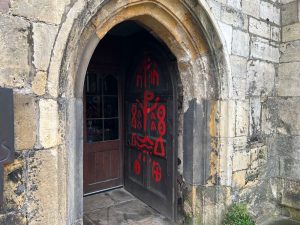 Some cunt is daubing runic symbols on old buildings in York.
A spokescunt has said:
"We reported to special branch when targeted back in November. They weren't investigating as [they] said it was isolated. Some of the symbols/runes we had were associated with far right/white supremacists."
Spokescunt obviously disappointed that his paranoia not acted on.
Yep, get Special Branch involved due to the swastikas and SS style script. Except it isnt. This is hippy dippy runic shite. Fuck all to do with the ever present far right white supremacists who terrorise us all. Daily. They probably get the bus from Harrogate, that hotbed of neo Naziism. The cunts.
Nominated by: Cuntstable Cuntbubble