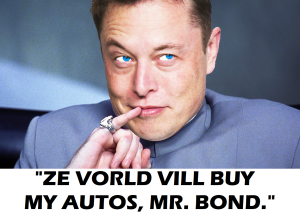 A right royal cunting, not only for the Tesla agent of evil but anyone else that buys into this electric car eco bullshit.
Mr Musk will have you believe that lithium ion battery powered cars are the greenest driving solution and a major contributor to saving our planet. Neither are true.
Firstly, coal mining is like precision key hole surgery compared to mining lithium which is environmentally catastrophic.
https://www.instituteforenergyresearch.org/renewable/the-environmental-impact-of-lithium-batteries/
(Link provided by Dr. Science himself, Night Admin – NA)
Secondly, the clue is in the name – lithium is a 'rare metal' and therefore not sustainable. Thirdly, charging your battery with electricity produced from coal fired power stations totally defeats the object.
Yet we are all being forced to adopt this flawed tech to save the planet. A colleague of mine visited a battery production plant in a remote part of China last year. He was advised to wear a face mask within 40km of the site as the air was so toxic.
Studies have proven that eco diesels, when all things considered, leave a lower carbon footprint. They are not the answer but neither are EVs. Hydrogen is the best option but the infrastructure is more expensive.
But Alan Musk's incessant propaganda backed by the ignorance of Greta Turdburg ensures that eco warriors across the globe buy into this nonsense. Which means in 20 years time I wont be able to drive to Cornwall without stopping repeatedly to charge up which is unforgivable.
Not just eco cunts. Holiday ruining cunts.
Nominated by: Birdman of Cuntytraz