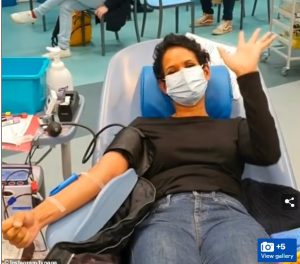 I'd like to cunt naga munchetty again.
I was somewhat intrigued by a headline on newsfeed that said
" Naga Munchetty hospital"
Oh good, I thought. She's had a stroke, or been shot by a stalker fan"
No such fucking luck. She's got herself filmed while donating blood.
I have to say, to all those out there who donate, I tip my hat to you, thank you.
BUT me, me, me Munchetty needs to shut the fuck up.
To all of you who have lost a much loved pet this year, may I offer my sincere sympathy.
When I lost my first dog, I swore I'd never have another, as the heartbreak seemed overwhelming.
Yet, through the years, I have had a steady parade of dogs and cats that have been left, lost, or abandoned through my home. They have all been loved and treasured, and held in my arms for that final goodbye.
Although I have said over and over ' no more', somehow I seem to find an extra bit of love for another lost sole.
It maybe a little too soon for some of you. You may feel that you're a bit too old, but I beg you to think about the love and comfort you could offer to some little love.
Nominated by: Jeezum Priest